THE INSPIRATION BEHIND RIMOWA x CHAOS
CHAOS' co-founders share the inspiration behind the playful RIMOWA x CHAOS collaboration.
For Charlotte Stockdale and Katie Lyall, a collaboration with RIMOWA fit not only their brand's DNA, but their own. Before launching their cultish accessories line in 2016, the creative duo were sought-after fashion stylists who frequently flew around the globe. As a result, they became "well acquainted with what [we] love and hate when it comes to travelling with hand luggage on trains, planes, boats, and in cars."
Now, their discerning opinions have been articulated in a collaboration with RIMOWA on a limited-edition line of suitcases and travel accessories. Take the RIMOWA Essential suitcase, whose signature polycarbonate grooves have been splashed with a bold graphic in the shape of paint dripping down the suitcase's exterior. Or the series of accessories – from a satin nylon luggage harness, to collectible leather luggage tags, quirky luggage charms, and neon slogan stickers – that complete the collection. Here, the pair share the ideas and inspirations that shaped their designs.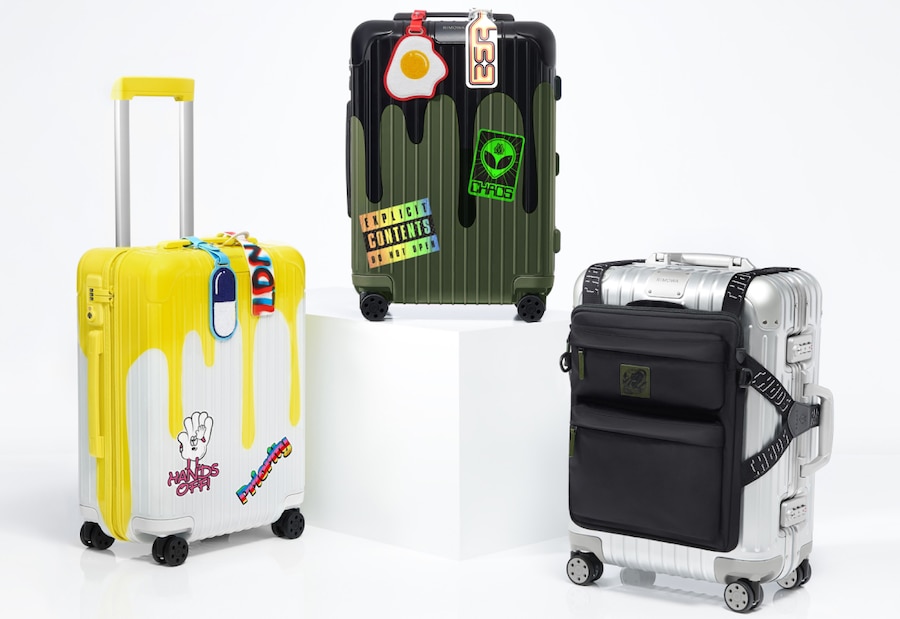 Click to discover the entire collection
What is CHAOS' design ethos?
We design products with excellent function, in a style that is energetic and sophisticated, in order to make your daily life better. Colour and texture are central to our DNA – we play with the two to create pieces that have depth and personality, using graphics and prints that elicit an emotional response.
Why did a collaboration with RIMOWA feel like a natural fit?
Customisation and personalisation are very important at CHAOS and we think that being able to choose and style your suitcase and accessories to suit your mood is important for travel, too. The RIMOWA Essential's iconic base was the perfect canvas for us to layer on our approach.
The RIMOWA x CHAOS collection is a very comprehensive set of travel tools. What were you hoping to provide with it?
We wanted to create a collection that solves all those hand luggage gripes and makes you excited to pull out your suitcase when it is time to pack. The distinctive paint drip design on the suitcase, aided by our signature embroidered Teddy Tags in three new graphic shapes and a choice of cool stickers, means you can spot your case a mile away. The collectible luggage tags provide happy memories of where you have been or exciting reminders of where you can go. And our own experiences led us to design the luggage harness, a genius piece of kit that allows you to travel in style while carrying your essentials.
How does the luggage harness work?
We wanted to streamline the experience of traveling with hand luggage. This harness allows you fast access to your headphones, book, passport, laptop, water – anything you need to keep close at hand. It's very simple to put on and take off and all the storage is situated at the front in ziplocked pockets so that it's still easy to place in the overheard locker if you're flying. It is our absolute go-to travel accessory: it saves time, it saves your back, and it means you can travel with a little handbag if you wish.
What inspired the dripping paint design on the RIMOWA suitcase?
We liked the idea of making something solid feel fluid. And it's impossible to miss this suitcase when it passes you in an airport terminal or gets unloaded at the hotel door!