Pre-Loved Luggage
Buy a suitcase with a story. Shop RIMOWA's collection of pre-loved luggage or sell your RIMOWA aluminium suitcase to receive a gift voucher for your next travel companion.
A more sustainable approach
RE-CRAFTED gives pre-owned RIMOWA aluminium luggage a new lease of life. This circular model – which focuses on reusing, repairing, and recycling suitcases – helps build a more sustainable world.
Latest RE-CRAFTED Luggage
Discover our collection of lovingly refurbished suitcases to see if there's the perfect piece for you.
How it works
A RIMOWA RE-CRAFTED suitcase is just as reliable as a new one. After being refurbished by our team of experts, its quality is assured with a two-year warranty.
STEP 1
We take back your suitcase.
Bring your RIMOWA aluminium suitcase to select stores alongside a personal identification document.
See our FAQs
.
STEP 2
We verify authenticity.
We check the suitcase to verify its authenticity.
STEP 3
We recycle or refurbish it.
Depending on the suitcase's condition, our team of experts will decide whether it will be recycled or refurbished as part of our RE-CRAFTED programme.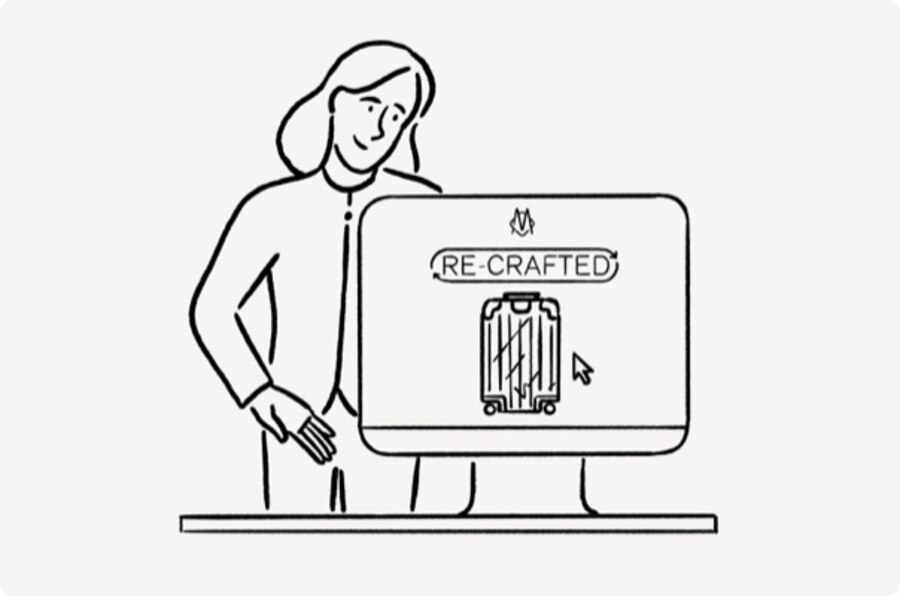 STEP 4
We sell it online.
Once the suitcase has been refurbished, it becomes available to buy online.
Sign up
to be the first to know when RE-CRAFTED luggage is ready.
Learn more about the refurbishment process
Our expert team of technicians go through 30 points of control to thoroughly refurbish each suitcase. Suitcases that can't be repaired are dismantled and their parts sent to our usual recycling streams.
Sell your suitcase with RE-CRAFTED
Simply bring your RIMOWA aluminium suitcase to selected stores in Germany and receive a gift voucher for RIMOWA products in return.
SELL YOUR LUGGAGE
Still got questions?
Get in touch.
You are back online
You are currently offline
Close
Add the RIMOWA App
Add RIMOWA Online Store to your home screen for faster and safer browsing.
Tap the "Share" Icon:
Tap "Add to Home Screen":
Tap "Add"