THE NEW NORMAL | FILE.04 TEPPEI KOJIMA - BONSAI PRODUCER
Since 1898, RIMOWA has been a leader in travel, with an evolving selection of thoughtful tools that facilitate journeys near and far. Its global brand campaign, "Never Still," embodies this ambitious mindset with impactful stories from high-profile friends of the brand who are pursuing excellence in their field. Now, a special project in Japan, titled "The New Normal", will showcase local Japanese influencers as they share what has kept them motivated during the most difficult of circumstances.
For file 04, RIMOWA focused on the Bonsai Producer, Teppei Kojima. He re-ezamines traditonal Japanese culture "Bonsai" from a new perspective, and share the culture to the younger generation and to overseas. RIMOWA will reveal how he came across this culture and was fascinated by it, and why Bonsai is attracting people again.
"Tradition is born when constantly innovating."
―First of all, what do you do as a Bonsai producer?
TEPPEI KOJIMA  I mainly carry out activities to share Bonsai culture to the world. Of course, I grow Bonsai trees as well, but there are many people who have better skills than me. My team "TRADMAN'S BONSAI" shares bonsai culture to the world, which culture includes those Bonsai artist. You may think Bonsai is old-fashioned, but in reality, it is constantly innovating. I believe that "tradition comes from the connection of innovations." That's why I often use that phrase as a hashtag on Instagram.
―What was your impression when you stepped into the world of Bonsai?
TEPPEI KOJIMA  There are Bonsai trees that are hundreds or thousands of years old, and of course it is not something that I can create in my lifetime. Bonsai trees that past Bonsai artists have cultivated by watering every day and exposing to sunlight have been passed down to the next generation, and now in my hands. Then we do the same to the next generation, and so on. It is exactly like creating the history, and that's what attracted me the most. For me, it was as shocking as the first time when I saw tattoos, or when I learned about the American culture. From then, I started believing that "the world should know about Bonsai culture more," and that is my motivation.
―People say that Bonsai trees express nature, but what exactly does that mean?
TEPPEI KOJIMA  Expressing nature means showing the harshness of nature in a pot. A straight stem Bonsai tree is called a "Chokkan," but it is not so interesting. A crooked trunk or a partly white-boned trunk are more interesting. Tress naturally weather as they age. The real fascination of Bonsai is to create the passage of time of living things in a pot, and express the majesty of nature.

―You said that Bonsai trees express the harshness of nature. Do you have time to sharpen such feeling yourself?
TEPPEI KOJIMA  Bonsai artists have always said, "look at nature," because so many things are concentrated in a pot. Sometimes I go into unmaintained mountains and try to see a lot of things that can only be expressed in nature, like how trees grow naturally. Seeing nature is really important when making Bonsai.
―It seems that younger people are interested in Bonsai culture again.
TEPPEI KOJIMA  Exactly! It was mostly elderly people, but now younger people also spend a lot of time at home because of COVID. There's a term such as "Bonsai healing." When people make time to face Bonsai trees at home, they can concentrate on nature and their own mind. The modern people are always busy, aren't they? I think by facing Bonsai trees, they can reset their mind.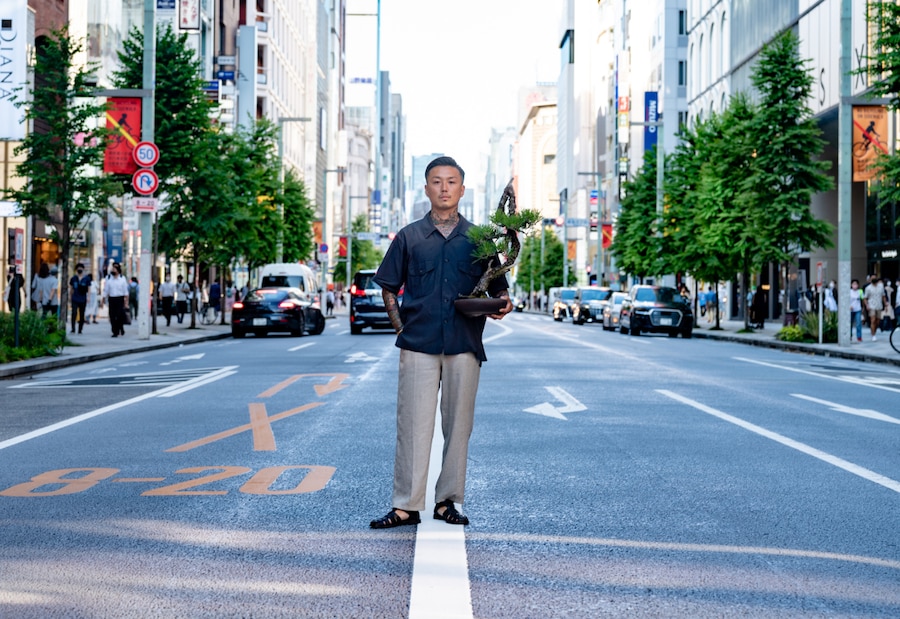 ―What is your motivation to continuing to take on new challenges?
TEPPEI KOJIMA  To be honest, my life has completely changed after I came across the Bonsai culture. It might sound exaggerated, but to me, Bonsai has really helped me. So, in return, I want to spread this fascinating culture to more people.
[ABOUT Teppei Kojima]
He is a CEO and Producer of "TRADMAN'S BONSAI" who also works as a Bonsai artist. He has a unique career path of originally being an apparel buyer before becoming Bonsai dealer. Currently, while growing and leasing Bonsai, he strives to spread fresh and cool Bonsai culture to the world. With his unique production sense, which breaks the conventional concept, and his love for Bonsai, he has many fans not only in Japan but also overseas.
Instagram: @teppei_kojima501