RIMOWA DESIGN PRIZE 2023 - WINNING PROJECTS
Having begun in October 2022, the first edition of the RIMOWA Design Prize has come to a great end.
During a ceremony held in Berlin in May, seven works were selected as finalists, each garnering a prize of their own. After careful consideration, the jury named Noa Grgic as winner for the first edition of the student competition tackling the ever-evolving subject of mobility. Jesse Jacobsen & Paul Meyer were given a special mention. Learn more about their award-winning projects below:
NOA GRGIC — WINNER
ACADEMY OF FINE ARTS STUTTGART
PROJECT: "ARTIFICIAL BODY POSITIVITY"
Regaining mobility after losing one or multiple limbs is one of modern time's great marvels. Despite many amputees still able to live in a mostly independent and unhindered manner, more than 30% suffer from depression.
Multiple studies and conversations with my target group have shown that a significant reason for depression is that of body image. Body image describes a person's thoughts, feelings, and even perception towards the aesthetics or attractiveness of their own body. This image takes on an entirely new dynamic when combined with the need to wear prosthetic limbs.
The process that leads to amputation is traumatic and often unexpected. After months of pain and immobility, you are then asked to choose from a variety of prosthetics that seek to resemble the lost limb/limbs. The "uncanny valley" is a hypothesized relation between an object 's degree of human resemblance and one's emotional response to said object. The hypothesis suggests that humanoid objects that imperfectly resemble actual human parts provoke uncanny or strangely familiar feelings of uneasiness and revulsion. Achieving body positivity is highly dependent on both self and social acceptance. The goal of Artificial Body Positivity is to give amputees more control over their appearance and better utilize their prosthetics to raise feelings of self-esteem and self-acceptance. Artificial Body Positivity achieves this by designing accessories for prosthetics that allow the wearer to express their individuality, while removing the negative stigma surrounding off-the-shelf prosthetics.
The A.B.P. app is where this concept becomes a reality. More than an online shop for prosthetic accessories, but also a place where other innovative and creative projects around prosthetics are showcased. The possibilities of expressing one's individuality in the form of an accessory culminate in the A.B.P. Creator, where one can design their own individually customized accessory.
JESSE JACOBSEN & PAUL MEYER — SPECIAL MENTION
MUTHESIUS ACADEMY OF ART KIEL
PROJECT: "FRAME FOR ALL"
Mobility, simply defined as the ability to move oneself or objects freely within a space, is taken for granted in countless societies. Despite being a fundamental human right, mobility depends on resources such as money, tools, and access to technology. As a result, mobility as a topic can become incredibly complex.
In an attempt to mediate some of this complexity, we tried to make mobility accessible to as many people as possible through the development of "Frame For All"; a universal mobility tool which can be converted into a variety of different commodities such as a load carrier, display table, shelter, or even a camping bed. Our aim with Frame For All is to fulfil a greater variety of mobility needs, regardless of social status, condition, or location.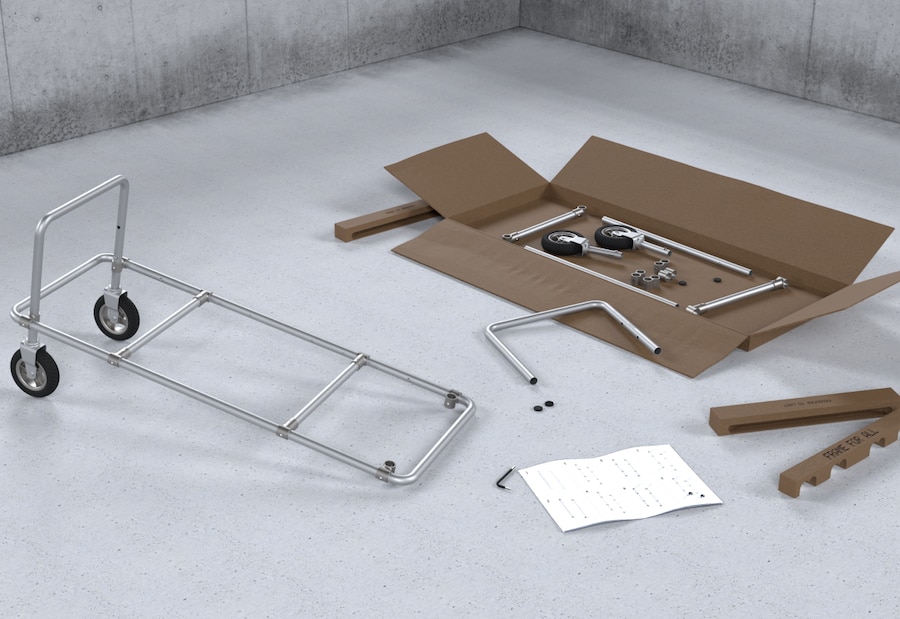 Just as our project aims to serve a human's most basic mobility needs, the manufacturing and design was kept as simple as possible, making Frame For All cost efficient and relatively self-explanatory. Each frame kit consists of bent and anodized aluminium tubes, cast aluminium connectors, and rugged pneumatic tires. A variety of possible applications have been illustrated in a pictorial manual, further improving the accessibility of our product.
As we believe it is more important than ever to consider sustainable manufacturing and the afterlife of industrial products, we chose aluminium as the system's main material. Aluminium is relatively simple to manufacture and allows for mono-material recycling opportunities. Each individual part comes complete with a unique identification code, which provides information about its composition and surface treatment when scanned. This allows recycling companies to separate and process the used materials accordingly. With this, we hope to close the material cycle and progress towards a more transparent and sustainable future. Frame For All is establishing a mobility baseline with global impact.
Discover all projects on RIMOWA DESIGN PRIZE website (in ENG and DE only).