II- INSIDE HEXENHAUS, GERMANY'S HIDDEN ARCHITECTURAL GEM
More than a century since its establishment, RIMOWA has continuously pushed its heritage forward. In its mission to do so, the brand looks to the precious architectural gems in its home country.
This time, the German Maison turns its eye to a lesser-known yet inarguably iconic structure: Hexenhaus by husband-wife architectural duo Alison and Peter Smithson.
Tucked inside a dense forest in Hessen, Germany, which was the setting of the Grimm Brothers' fairytales, Hexenhaus, which means the 'Witches House' in English, was transformed into the architectural icon that it is today starting in 1986. That year, its owner, furniture maker Axel Bruchhäuser, commissioned Alison and Peter Smithson to build several lookouts on the property. The Smithson architectural duo carried out modifications in the following years, expanding and opening the home to the natural landscapes surrounding it.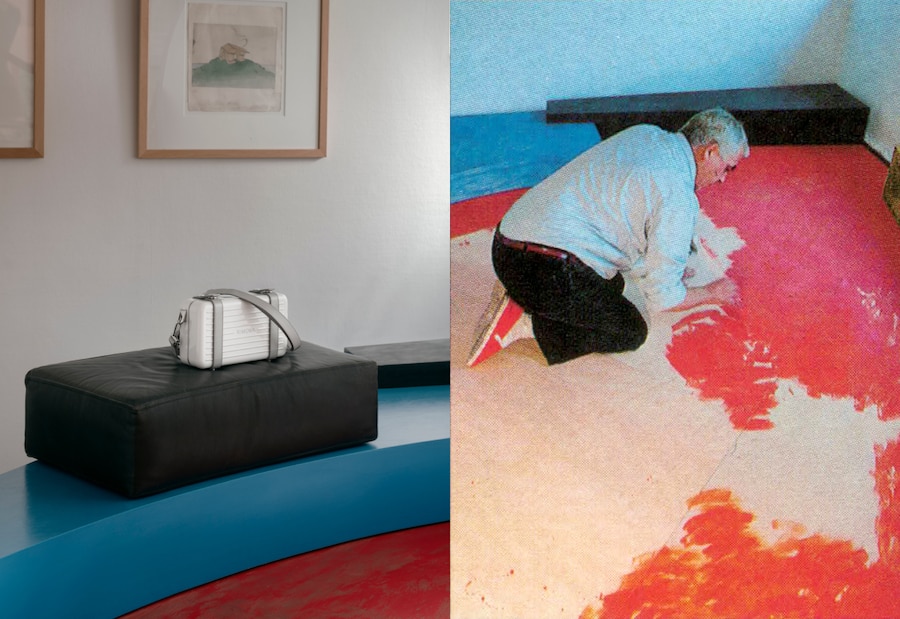 Upon its completion in 2003, Hexenhaus incorporated 23 modifications by the Smithsons, including floors painted by renowned artist Stefan Wewerka, as depicted in a drawing by the artist himself. Whilst small in scale, the additions, extractions, and new routes established by the architects were big in impact. Their interventions maintained a respect for what had already existed yet established a new, uninterrupted connection with nature. The distinction between the home and the dense forest that surrounds it diminished, with numerous walls removed and ceilings cut into, allowing light and even trees to become part of the home. Primarily using elements of wood, stone, and glass, Hexenhaus also adopted a new façade, a veranda on the south-east side of the house, and a lookout from the owner's bedroom on the first floor with a wooden walkway that arrives at a small observation deck, offering it complete coherence with the forest - and making it a prime example of the Smithson's radical architectural style.
Photographer: Simon Menges
I- INSIDE THE ICONIC HAUS KEMPER
II- INSIDE HEXENHAUS, GERMANY'S HIDDEN ARCHITECTURAL GEM