TECH-ENABLED TRAVEL: MONCLER RIMOWA "REFLECTION"
Art, fashion and design came together this past Friday at the Institut du monde arabe, as Dior and RIMOWA debuted their first joint capsule collection on the runway of Dior's men's Summer 2020 in Paris.
Created together with Kim Jones, Artistic Director Dior Men's, the Dior and RIMOWA capsule luggage collection is a delicate fusion of old and new, of legacy and a keen sense for what's around the corner. Featuring a fresh take on a handful of RIMOWA's most sought after designs, the collection celebrates both heritage and the future of the brands.
Forged with craftsmanship, expertise and technical innovation, the Dior and RIMOWA collection features Dior's seasonal colours and the emblematic Dior Oblique, a signature motif of the iconic house that dates back to 1967. The exclusive line of luggage is skillfully and distinctly unique in its look and feel. Using an innovative combination of anodising processes vibrant pigments are inscribed directly into the product's aluminium skin, lending the design a rich and reflective appearance that celebrates the spirit of the aluminium as the building block of the collection.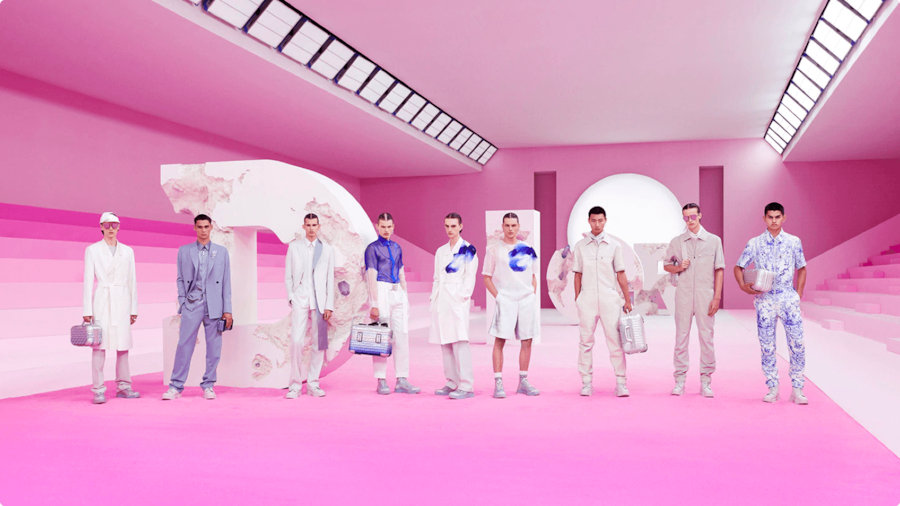 As part of the unveiling on the runway, the brands showcased the Dior and RIMOWA Hand Case, a first-time revival of the brand's vintage "Piccolo" case from the early 90s; the Dior and RIMOWA Personal, a debut design meant as a supremely portable personal belongings case complete with a cross-body strap; the Dior and RIMOWA Champagne Case, an elegant take on the brand favourite including in exotic crocodile leather handle and a branded interior created exclusively to hold Dior champagne flutes; and the Dior and RIMOWA Cabin based on the iconic RIMOWA Original made with the finest aluminium in Dior's seasonal colours.
The entire Dior and RIMOWA capsule collection premiered to the public in late October with a dazzling staging inside the new Dior boutique on the Champs-Elysées. The unveiling showcased the luggage collection alongside a silver-coloured helicopter customised for the occasion. Unique down to a cockpit designed in grey and blue aluminium and decorated with the same Dior Oblique motif, the grandiose installation invited visitors to dream of travel renewing the art of movement and a love of travel shared by Kim Jones and RIMOWA.